a blog? I thought he was supposed to leave me wanting more?
How To Improve Your Comedy Writing
Repost from a LinkedIn article I wrote because, well, I'm tired of people wondering if I'm still alive after not having posted to the blog in some time.

​Plus, it's pretty darn helpful:

Without a doubt: the most terrifying thing about any art is whether or not you can build an audience.
An audience pays your bills, picks up your tabs, and can vindicate your creative effort all while giving you significance in their world. That's what great performers have: the ability to affect complete strangers into finding meaning in their own lives.
Pretty powerful stuff, that.
But if you can't build an audience, you're left wandering aimlessly through creative wastelands with creditors unable to reach you because your phone and internet have been cut off. Oh: and no one loves you because you can't find a place to bathe - the security guards at the water park are wise to your shenanigans (stop using bar soap!).
So... HOW does one build an audience?
You do your art for yourself.
You slug through the first dreadful years of ugly open mics, nasty rejection letters and unanswered phone calls doing the thing you want to do. That means if you're a freelance architect specializing in shantytowns, you keep drawing shantytowns on your CAD software. Before you know it, there's a set in Hollywood where Michael Bay's yelling, "Get me Shantytownman!"
I once heard that Dave Attell - DAVE ATTELL - spent the first seven years of his stand-up career walking audiences with his humor. Too blue, too abrasive, too scatological, they said. I saw him for the first time live in 2001 at Cap City Comedy in Austin, TX, and it remains the single funniest stand-up performance I've ever witnessed. A fan of comedy my whole life, I had this one specific thought throughout the show: "this must have been what it was like when people saw the Beatles for the first time."
Doing your art for yourself allows you the freedom to become great at whatever your niche in that art is. It allows you to explore yourself, find out how you want to express yourself in your medium, and - perhaps above all - it allows you to be genuine. To set yourself apart from the pack.
Being genuine - having your unique voice in a sea of discord - resonates with people from all walks of life. The end result: the audience you build over this time is organic. In other words, the audience you gain during these tough times WANTS you. They wantyou to succeed, they want to see you do well, they want to brag to their friends about you and how they saw you before you reached the top.
And when you get there, they'll be your most ardent supporters.
So, Artists: don't fall into the trap of tailoring your art to an audience because it will never happen. You can't please everyone. Trying to please everyone is a fool's errand; spend your time trying to please yourself, no matter how impossible that may seem. Again, you'll only get better while building a loyal following.
Now if you'll excuse me: I have to get back to crocheting my bluebonnet quilts for military wives from Texas. Thank you.
-Nick



Author

I'm Nick. I've never been afraid of getting in over my head, and I've survived every resulting injury from doing so. Played college football in the SEC while running a 5.1 forty at 200lbs, got booed off stage in front of 1,000 people at a 'Latino Laff Nite (I'm not Latino),' rolled with BJJ Black Belts, and got TKO'd by a Golden Gloves boxing champion during a fundraiser for MDA. The closest I ever got to being a real man was when my mom cut me off on the way to the Marine Recruiter's office - in the parking lot.

​Lots to give, 'cuz, man: I sure have received.

Archives

October 2017
July 2017
June 2017
May 2017
April 2017
August 2016
July 2016
June 2016
April 2016
March 2016
January 2016


Categories

RSS Feed
Powered by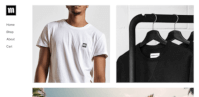 Create your own unique website with customizable templates.