a blog? I thought he was supposed to leave me wanting more?
How To Improve Your Comedy Writing
Been away these last few (okay, several) months doing some freelance work while trying to get a store up on Amazon.

Amazon is awesome for buyers - AWESOME - but there are a ton of things you've got to understand if you want to open a store in hopes of generating passive income.

The biggst thing: Amazon's efforts to attract, keep, and satisfy customers far outweighs any effort to do the same for its vendors. That's a great thing: as a shopper, you receive unparalleled access to goods, prices, and service from vendors who are competing under ridiculous strains to get and keep your business.

That means if you're selling Amazon, not only are you competing against a million other sellers with coffers ranging from peanuts to Porsches, you're competing for buyers who can leave completely destructive reviews on a whim. A WHIM! Even if they don't use the product correctly or for anything related to its intent, a dissatisfied buyer can CRUSH you, especially in the early stages.

Enter my first negative review.

One of my products is kinesiology tape, an overly competitive (and now, it seems, dying) market plagued with its association to athletic tape. The two are NOT the same, as you can take athletic tape off as soon as you put it on. Not so with kinesiology tape: you put it on and that stuff STAYS, MAN. Mine is guaranteed for three days before even THINKING about coming off.

Some people buy the tape knowing that, and some people don't. I had a buyer who I don't believe did know that difference, and here is her review of my tape, verbatim:

"

My skin came off when I removed the tape.

"

How much more damning can a review get???? "As I peeled back the tape, my skin was flayed from my body as though I had committed perjury against none other than Diocletian himself!"

Since that review, I've sent apology letters, more products to make sure she didn't get a bad roll, comments to her post... all in the hope that we can get to the bottom of the issue and she will remove her review. Her response: nothing. No returned emails, no contact... she just took a sh*t on me and walked off. Dwindling sales, collapsing rank, two thousand dollars of stagnated inventory, and it's all because I believe she THINKS she bought athletic tape, not understanding the difference.

Welcome to selling on Amazon, I guess.

Anyway, site's back up and running, and I'm here if you need me.

Cheers,

Nick

Author

I'm Nick. I've never been afraid of getting in over my head, and I've survived every resulting injury from doing so. Played college football in the SEC while running a 5.1 forty at 200lbs, got booed off stage in front of 1,000 people at a 'Latino Laff Nite (I'm not Latino),' rolled with BJJ Black Belts, and got TKO'd by a Golden Gloves boxing champion during a fundraiser for MDA. The closest I ever got to being a real man was when my mom cut me off on the way to the Marine Recruiter's office - in the parking lot.

​Lots to give, 'cuz, man: I sure have received.

Archives

October 2017
July 2017
June 2017
May 2017
April 2017
August 2016
July 2016
June 2016
April 2016
March 2016
January 2016


Categories

RSS Feed
Powered by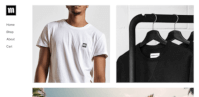 Create your own unique website with customizable templates.