a blog? I thought he was supposed to leave me wanting more?
How To Improve Your Comedy Writing
Whatever happened to moms?

I know, they're still around, but remember when a mom looked... well, like a 'mom?'

A bit on the hefty side with the wedding band sunk tight into her finger, a jovial and supportive nature, and that edge to them that made all your friends a little scared?

And that hairstyle? Like one day they walked into a salon at 32, sat under one of those gigantic domed dryers, got up and said, "Yup. This is it. This is the hairstyle I'm going with UNTIL I DIE?"

Those were moms then. But moms now?

Moms are hot! They look better in their 40's than most chicks look in their 20's. They don't drop their kids off at school wearing dresses anymore - they drop them off wearing LuLu Lemon pants and a tank top, explaining to those kids why they were in Time Out the night before.

Look, I'm all for fitness and taking care of yourself, and how you raise your kids is your business. That's fine.

My thought is, if I'm a boy entering puberty, and my mom's got 8% body fat and implants... what the Hell is happening to me?

Do I need ANOTHER challenge? ANOTHER girl to try to impress?

Then, when my teens are in full gear and all I think about (yes, ALL teen boys think about) is sex... I'm gonna wonder if all my friends want to bang my mom.

Not only will I wonder if THEY will want to bang my mom... I'll wonder if I'LL want to bang my mom.

Holy shit, did I just type that?

Will Kate Upton SI covers on my wall be replaced by pictures of family trips to the Coast?

Oh my God! What's happening to me?

<does pushups>

Okay. I'm back. Where were we?

Oh yeah... ick.

I don't think it helps their daughters, either. You've got the main female figure in your life running Iron Mans and deadlifting 315, suddenly your straight A's and first chair in your school orchestra aren't looking so impressive. Seriously, with all that time spent training, who's going to be there to watch you belt out a flute solo anyway?
​
It's a new phenomenon that I never experienced growing up, and I wonder what affect it will have on future generations is all.



Author

I'm Nick. I've never been afraid of getting in over my head, and I've survived every resulting injury from doing so. Played college football in the SEC while running a 5.1 forty at 200lbs, got booed off stage in front of 1,000 people at a 'Latino Laff Nite (I'm not Latino),' rolled with BJJ Black Belts, and got TKO'd by a Golden Gloves boxing champion during a fundraiser for MDA. The closest I ever got to being a real man was when my mom cut me off on the way to the Marine Recruiter's office - in the parking lot.

​Lots to give, 'cuz, man: I sure have received.

Archives

October 2017
July 2017
June 2017
May 2017
April 2017
August 2016
July 2016
June 2016
April 2016
March 2016
January 2016


Categories

RSS Feed
Powered by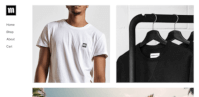 Create your own unique website with customizable templates.