a blog? I thought he was supposed to leave me wanting more?
How To Improve Your Comedy Writing
So, as you may or may not have noticed, I'm a bit "infrequent" with my blog posts.

And that's being nice, like telling my 12-year-old-fat-self, "SURE you can play professional baseball looking like that! Babe Ruth did!"

Truth is, though, if you knew just how busy I've been...

Making excuses...

You'd be proud of me!

I've got sixteen blog posts in my backlog right now that will probably never see the light of day.

Why?

They suck.

Just being honest with you. I'm not going to post my thoughts on politics, religion, or that guy next to me in his thirties wearing flip flops in the middle of a work day.

(Seriously: does anybody really care that every time I see a guy like that, all I can think is, "Is that guy on welfare, a Trust Fund baby, or did he just beat the system and get to go to work every day in flip flops?"

Hell, maybe he's a real blogger full of ideas with a readership exceeding a million, I don't know!

But what I do know is, he smells.

Bad.

Like American Spirit cigarettes and Axe body spray with a not-so-subtle hint of pine tree air freshener.)

All this being said, there are some of you who come to this website MORE THAN ONCE, and I owe you an apology. I don't know why you'd give me that much time of your life, but I sure appreciate the fact that you do.

So to reward you for that, go see

Matt Golightly

when he comes to your town. You may have read in my Author Bio that I got booed offstage at a 'Latino Laff Nite?' Well, Matt closed that very same show, and ABSOLUTELY CRUSHED IT. He had the crowd in the palm of his hand from the very first joke to his epic closer, and that was ten years ago. He's only gotten better and funnier, and I strongly recommend you go see him.

He's a solid guy, writes all the time, and is Fluffy's go-to guy when the rest of the writing staff is at a loss.

When you go, tell him 'Nick Joseph' sent you. He probably won't remember the name, but when you mention the 'guy who got Nah-nah-nah-nah'ed off stage,' it'll come back to him.

Cheers,

​Nick

Author

I'm Nick. I've never been afraid of getting in over my head, and I've survived every resulting injury from doing so. Played college football in the SEC while running a 5.1 forty at 200lbs, got booed off stage in front of 1,000 people at a 'Latino Laff Nite (I'm not Latino),' rolled with BJJ Black Belts, and got TKO'd by a Golden Gloves boxing champion during a fundraiser for MDA. The closest I ever got to being a real man was when my mom cut me off on the way to the Marine Recruiter's office - in the parking lot.

​Lots to give, 'cuz, man: I sure have received.

Archives

October 2017
July 2017
June 2017
May 2017
April 2017
August 2016
July 2016
June 2016
April 2016
March 2016
January 2016


Categories

RSS Feed
Powered by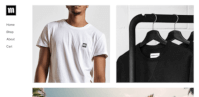 Create your own unique website with customizable templates.