a blog? I thought he was supposed to leave me wanting more?
How To Improve Your Comedy Writing
Body hair in weird places.

I don't know how it is for women, but men get these patches - nay, thickets - of course black hairs that can be several inches long and have roots DEEP in our into our derma.

It'd be one thing if these hirsute groupings were made of thick, straight hairs, but no-o! That'd be too easy! The hairs all curl up against each other, intertwining into a basket weave strong enough to hold a pen.

I mean, you know... so I heard from a friend.

Shaving only makes these things angry, too. They come back thicker and fuller... and I even think they spore. You ever step on a fungus in your yard and that 'POOF' of dust comes up? Those are spores - fungal "seeds" that go airborne to put that same fungus in someone else's property. You shave these random wolf hairs, and it's like a new patch just pops up somewhere else.

"Hair around my nipple? Oh! That's right: last week I shaved my finger..."

And I know it's not EVERY man that goes through this. I doubt Brad Pitt or Tom Cruise has mid-digital hair on one big toe (but not the other). But for every one of those guys, there's a Hugh Jackman tweezing a course curly from just outside his ear canal. (What's up, ladies??)

And can you imagine what Robin Williams had to go through??? What a nightmare! His poor wife, hairdresser, or... daily mistress having to clean all that out of the sink... Yeeich! It's not THEIR fault he hacked all those other comics' material!

('Flubber' WAS pretty good, though...)

See? This is why I hate clothes. They hide so many secrets. It would have been great knowing this was a struggle for my dad and grandfather; something where some secret remedy had been passed down through generations. Or, I could have prepared myself to do other things, namely dipping my body in hot wax once a week and having it ripped off when it's no longer moist. It seems like the pain of being semi-flayed weights less on me than the embarrassment I suffer every time my shoulder braids whip my arms at the pool.

I'm not saying body hair is gross. When tasteful, it exudes a certain masculinity women seem to like. Big men, brawny men, the big Brawny towel man... A little forearm fuzz seems to give women a sense of safety and security.

Why? I have no idea. As a guy, forearm hair is just another thing that can catch fire.

But patchy, coarse groupings of hair just... they serve NO evolutionary purpose! What, like somewhere earlier in my genealogy I a swath of ancestors died because they couldn't regulate heat loss from their lower back?

It sucks.

First, I was a fat kid. Then in high school, acne and halitosis. Now, as an adult, it's this.

Can't a guy just take his shirt off at the beach knowing people are laughing at his chicken legs and not his new-found knee hair???




Author

I'm Nick. I've never been afraid of getting in over my head, and I've survived every resulting injury from doing so. Played college football in the SEC while running a 5.1 forty at 200lbs, got booed off stage in front of 1,000 people at a 'Latino Laff Nite (I'm not Latino),' rolled with BJJ Black Belts, and got TKO'd by a Golden Gloves boxing champion during a fundraiser for MDA. The closest I ever got to being a real man was when my mom cut me off on the way to the Marine Recruiter's office - in the parking lot.

​Lots to give, 'cuz, man: I sure have received.

Archives

October 2017
July 2017
June 2017
May 2017
April 2017
August 2016
July 2016
June 2016
April 2016
March 2016
January 2016


Categories

RSS Feed
Powered by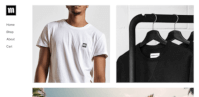 Create your own unique website with customizable templates.