a blog? I thought he was supposed to leave me wanting more?
How To Improve Your Comedy Writing
Just as my seven years of college don't translate into a Doctorate (barely even a Bachelor's), your lifetime of meeting with and engaging new people does not mean you can effortlessly articulate those experiences into words people would care to read.

You've got to hit your readers with new characters... they already know.

​Let me explain:

In hopes of making my own writing better, I went on a psychology binge trying to find out WHY people do what they do and say what they say (in writing and acting terms, I was trying to figure out their motivations).

It was in this pursuit I came across Carl Jung.

Quick backstory, he was a cohort and friend of Sigmund Freud (Mr. Id-Ego-Superego) who parted ways with the guy because he thought

Freud was too steeped in his own BS to see his theories had flaws in them.

In the world of psychology, this was a breakup of Bert-and-Ernie proportions, and Jung went off to become the founding father of what is today known as analytical psychology. Freud... I don't know what he did after that. I think he just languished in his own sorrow and started playing with morphine, which is how most of us handle breakups, amirite?

Anyhoo...

Jung said all people have conscious and unconscious minds. Now, there are literally TONS of books written about what these things are, but for our purposes - to improve our characters and dialogue - we'll focus on the unconscious, particularly the part Jung called the 'COLLECTIVE UNCONSCIOUS.'

Basically, the collective unconscious is a set of images (archetypes) shared by every human being since the dawn of time. A good example is the hero archetype: if you show the 'Harry Potter' movie to a Yanomamo tribesman, he'll identify Harry as the hero just as quickly and as easily as the lead scientist at the large hadron collider will.

Can that tribesman collide particles or complete a course in Differential Equations? No, but neither can the scientist grasp hunting monkeys as a protein source.

The point is, peoples' backgrounds and upbringings don't matter - the collective unconscious is something we ALL share (hence, 'collective').

"Okay, Nick. You're losing me. What the Hell does all this have to do with improving my writing?"

Glad you asked...

Jung broke the archetypes into three groups:

The Shadow;
The Anima; and
The Animus

It is in understanding each of these three groups that your (our) writing will improve, so let's get down to it.

1.) The Shadow:

Of the three archetypes, the shadow is the easiest to understand, and thus, the easiest to incorporate into your character and their dialogue.

In real life, we all wear a mask called the

persona.

It is basically the guy that goes out with us when we leave our parent's basem... er, when we leave our "office" to go out and face the world. It is what we WANT people to think we are: compassionate, caring, kind... whatever.

However, sometimes we wear that mask so much, we begin to believe it. "Look at me NOT kicking this three-legged dog for fun! Man, I AM SO KIND!" Or, "I left an eighty-nine cent tip to the barista at Starbucks today! Sure, I could have kept it, but that'd be selfish..."

And that's where The Shadow comes in.

Just because you THINK you're wonderful, you're shadow reminds you that you're not. Using the examples above, the Shadow is what reminds you that you WANTED to kick that dog and that you WANTED to keep your change after buying that tall Pike Place (the worst coffee they serve, but all that's available after 2pm).

Oversimplifying things, The Shadow is everything that goes against your persona; that nagging voice that says "If they ever discovered the truth about me..."

It's your darkest secrets, your most deviant desires...

and it's in all of us.

So develop your character's Shadow. Have him / her be confronted by it and study / embrace / repel it. If the protagonist is a supermodel, that fat kid inside them is always there; do a reveal where they're alone, in the dark, hammering away at a chocolate pie. Even better, have them crying while doing it. They can't stop - The Shadow's taken control.

2.) The Anima (an archetype):

Call this, 'The S-MOTHER-ING.' The projection that leads to it, anyway...

We all know boys love their mommies. Right from birth, the mother becomes the ideal woman, and the boy strives to please her in

every

way possible. (Yes, even THAT way.) She offers him complete protection and attention, so much so that a boy may never even become a man - why face the hardships and banality of the real world when your mother is willing to give you all you'll ever need?

And momma ain't no saint, either. She's busy trying to make the boy into the ideal man SHE wants and is hoping that when she completes this twisted project, the boy will stick around and never leave her side.

Ew.

At any rate, time does what it does, and eventually the boy enters adulthood. He projects (psychologically throws) onto every girl he meets the personal image of his 'perfect' mother (this is making me VERY uncomfortable), and when she inevitably falls short, the man gets all wound up and irritated.

That woman ain't no chump, so she stands her ground and they get into an argument.

BUT: while he's projecting the image of his mother onto her, when he gets a rush of anima, he's no longer doing that. He's actually doing

his

impression of the ideal woman.

What a tool! (As I forcefully refuse to believe I

ever

do this.)

Here's where that can help your dialogue:

Every Hall has its Oates, so your male characters MUST have something that balances them (or tries to, anyway). By nature, men have a stronger logos than women, so they take pride in and strive for thoughts of reason and objectivity.

Well, that all comes crashing down when the woman they're arguing with starts going all 'animus' on him (see below). During a heated exchange, the man will revert to arguing for the sake of preserving his vanity - he wants to 'save face' and protect his fragile ego.

Now women get flooded with...

3.) The Animus:

Where the Anima is an injection of the female eros into a man, the Animus is the (sometimes lethal) injection of the logos into the woman during an argument.

Consisting of opinions that are completely

independent of experience,

the logos believes its opinions are ABSOLUTE TRUTHS and, thus, a woman flushed with animus fights for

a position of power

.

Why? Because she's doing the same thing he's doing, but instead of impersonating the ideal woman, she's acting out the archetype of ideal man.

So now you've got the man pretending to be the perfect woman and a woman pretending to be the perfect man. What the Hell?

In the end, the man is resentful and the woman is ready to break all ties with him. (Probably because she knows she can find another man and start a whole new life by the time he wipes his first tear, but Jung is Jung and I'm just me, so take that with a grain of salt.)

So keep that in mind when writing dialogue - the collision of the anima and animus. If it's comedy, have this deep, dark, collective fact come to life over something stupid, like him not picking up his socks:

"You're gonna leave your socks right there on the floor?"

"I'll get 'em later."

"But... why can't you just get them now?"

"Because I'm eating dinner."

"FUNIONS... are NOT DINNER, Gary."

"When you're trying to save money for a wedding, they are!"

"You honestly think I want to marry a guy with a weight problem who eats Funions with his socks on the floor?"

"'Weight problem?'"

Etc. Etc. The argument repeated millions of times a day around the globe escalates into the nonsensical, and the pining guy has to go win the apathetic girl back again and again until they both die alone in separate homes, not even remembering each others' name. (Life sucks sometimes, man.)

To recap:

1.) Have your characters explore their dark sides, either through exposition or dialogue. That dark side's in all of us (The Shadow), and it's all the urges we've had to repress that are demanding to be liberated and incorporated into our behavior.

Your character the vegan president of PETA? Have them hit a deer on the road and, while pulling over to render it aid, have them accidentally run over a squirrel that came out to see what was going on. Now your character's got to make the choice: help the deer or the squirrel. Even better: they now have to come to terms with the fact that

they've actually been the one to hurt animals.

Boom.

2.) Men fall in love with women who best personify or help them relive the love their mom gave them. When that inevitably goes to pot, they start mimicking the perfect female (they're flushed with the Anima).

Why? You got me!

Doesn't matter, though. Women seem to find love the exact same way, and when that image is shattered, they start pretending to be the perfect man (they're flushed with the Animus).

So you've got two characters playing their biological opposites in front of each other in a situation of blinding rage.

Why that is, I have no idea. But for the sake of writing better characters and dialogue, just know that IT IS.

Now that you know, go out and do.

Cheers,

​Nick

Author

I'm Nick. I've never been afraid of getting in over my head, and I've survived every resulting injury from doing so. Played college football in the SEC while running a 5.1 forty at 200lbs, got booed off stage in front of 1,000 people at a 'Latino Laff Nite (I'm not Latino),' rolled with BJJ Black Belts, and got TKO'd by a Golden Gloves boxing champion during a fundraiser for MDA. The closest I ever got to being a real man was when my mom cut me off on the way to the Marine Recruiter's office - in the parking lot.

​Lots to give, 'cuz, man: I sure have received.

Archives

October 2017
July 2017
June 2017
May 2017
April 2017
August 2016
July 2016
June 2016
April 2016
March 2016
January 2016


Categories

RSS Feed
Powered by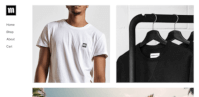 Create your own unique website with customizable templates.