a blog? I thought he was supposed to leave me wanting more?
How To Improve Your Comedy Writing
Holy Hell, man.

I just bought a new laptop - cheap, yes, but a cool purplish blue so I can keep my youthful appearance and draw attention away from my gigantic forehead. But I digress...

It is my first laptop purchase in over five years, so I thought, "Sweet! Windows 10! That must mean Microsoft's been slaving away at fixing the bugs of XP and Vista, right?"

Wrong.

Not only is Windows 10 a far cry from an upgrade, it's a far cry from USEFUL.

Granted, I'm not writing from C prompt - which is great - but C prompt seems like it would be a faster way to surf the web and create/edit documents.

Just a quick check on the Task Manager and you'll see that even when you're only running Chrome, your CPU usage is at 100% and, thus, every other application you try to run is held up in limbo.

Signing into your Weebly account? Have fun! Enter your i.d. and password, then go make a consomme, because it's gonna take awhile.

(And, cooking note: if you do actually make a consomme, use 80-20 ground meat and lots of egg whites [fat and egg whites can rise, recirculate, then rise again], and skim your raft with care, 'cuz if you don't, it'll be too cloudy.)

It's such a problem, I'm wondering if it's my laptop. Like some manufacturing error where instead of installing a SSD they put in a hamster, dead on its wheel.

On an (I'm sure) unrelated note: I was told the other day that Microsoft owns 58% of Apple's stock. Fifty-eight percent! I'm no stock market guru or "good at balancing my checkbook," but I smell insider trading. If that figure is indeed true, I wonder if Microsoft designed Windows 10 with the sole intention of driving people to the Mac and MacBook.

It's aggravating enough trying to start a business (which is what this blog and my Amazon store are) that I don't need to be held up waiting three days to download a simple .ai file from Fiverr for a logo I need to send to manufacturers for a product I need shipped before 2017.

Yikes.

The only thing that would make Windows 10 more frustrating is if they were paying the designers with taxpayer dollars. If they were, I'd call for a clean sweep of all of them on account they must not be human beings that have ever used a computer before. I'd lead that charge, and I'm borderline narcoleptic!

Anyway, if someone reading this has any advice on what to do, I'm all ears.

Until then, go check out Matt Sadler. Even though I used to do comedy with him, he was light years beyond whatever funny I thought I could do, and he's got a wicked set that will have you laughing for days. He's just gotten better and better with time, and the fact he's not a household name is baffling: his presence is unique, his topics are light, and his punchlines hit like a howitzer. He doesn't have a website, but you can

follow him on Twitter

to see what I mean. Enjoy.

Author

I'm Nick. I've never been afraid of getting in over my head, and I've survived every resulting injury from doing so. Played college football in the SEC while running a 5.1 forty at 200lbs, got booed off stage in front of 1,000 people at a 'Latino Laff Nite (I'm not Latino),' rolled with BJJ Black Belts, and got TKO'd by a Golden Gloves boxing champion during a fundraiser for MDA. The closest I ever got to being a real man was when my mom cut me off on the way to the Marine Recruiter's office - in the parking lot.

​Lots to give, 'cuz, man: I sure have received.

Archives

October 2017
July 2017
June 2017
May 2017
April 2017
August 2016
July 2016
June 2016
April 2016
March 2016
January 2016


Categories

RSS Feed
Powered by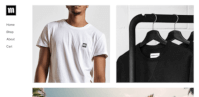 Create your own unique website with customizable templates.