a blog? I thought he was supposed to leave me wanting more?
How To Improve Your Comedy Writing
As you read this, a group of companies just pooled together some money to purchase the UFC (Ultimate Fighting Championship) for a roundhouse kick to the groin of $4.2 Billion, and I don't know how I feel about that.

On the one hand, you may actually have fighters with - wait for it - medical and dental. One could argue that they get paid enough per fight, but those are only the guys and gals on the main stage. For every one of them, there's a thousand wannabes and Kentucky hillbillies fighting it out in backyards and abandoned bear dens who don't earn a month's rent on fight night. So it's nice to know that the guy who swears by classic pugilism can get his jaw re-wired for literally pennies on the dollar after he tussles with the kid from Bangkok who's been fighting for food and shelter since he was five.

On the other hand, mandatory sexual harassment training and new advertising campaigns and logos.

If you're going to fight in the new UFC, you're going to have to roll, spar, fight, tap out, KO, and TKO every Tom, Dick, and Harriet in your path... just to go sit in a conference room and listen to consultants tell you how to treat your coworkers, who - a lot of the time - walk around in nothing but bikinis. Smells like entrapment, to me. Right about now would be a good time to be graduating from Law School specializing in Title VII violations (relax, I looked that up).

And on advertising... the UFC is where mid-market and burgeoning companies could display an ad and actually make you care. Tap Out, Affliction, Onnit, Xyience... all of them could advertise alongside Bud Light and Monster Energy Drinks and still get noticed, even if they were covered with, ahem, "spatter."

Among the purchasers of the UFC: the Kraft family. Given that they're probably not going to cross promote the Patriots (would LOVE to see Tom Brady take on Randy Coutre, though - would TKO him with "handsomeness"), you're going to see ads for razors and KRAFT MACARONI AND CHEESE.

I can see it now: 'When in close quarters, toss elbows... with our mysterious cheese powder containing yellow dyes 5 and 6. Perfect for the thirty-something bachelor in your life who loves a healthy high-carb diet."

I'm no purist by any stretch (I still love boxing despite what Don King did to it), but I would like to have seen my favorite sport outside of college football be purchased by an investment group with things in their portfolio other than Miracle Whip, Chinese Cinema (the Wanda Group), and a penchant for oppressing anti-government speech (Tencent Holdings).

Zuffa was not without its problems, and Lord knows the Fertitta brothers were far from perfect, but at the heart of it all was Dana White (a lover of all things boxing and Brazilian Jiu-Jitsu) and Joe Rogan (probably the most accomplished non-professional fighter out there). Those two guys (and Bruce Buffer) have weathered some serious UFC storms, seeing it through all the sanctioning woes and PED conspiracies; it will be interesting to see if the new ownership has the same chutzpah.

In my experience, though, I don't think it's likely.

I'll keep watching because the talent is unbelievable and the rivalries are real, but the moment they start putting in sideline reporters without a minute spent on the mats and introducing five-ounce gloves, I'll be vocally disgusted.

I'll make up my lack of comic recommendations to you in the next post,

​Nick





So, as you may or may not have noticed, I'm a bit "infrequent" with my blog posts.

And that's being nice, like telling my 12-year-old-fat-self, "SURE you can play professional baseball looking like that! Babe Ruth did!"

Truth is, though, if you knew just how busy I've been...

Making excuses...

You'd be proud of me!

I've got sixteen blog posts in my backlog right now that will probably never see the light of day.

Why?

They suck.

Just being honest with you. I'm not going to post my thoughts on politics, religion, or that guy next to me in his thirties wearing flip flops in the middle of a work day.

(Seriously: does anybody really care that every time I see a guy like that, all I can think is, "Is that guy on welfare, a Trust Fund baby, or did he just beat the system and get to go to work every day in flip flops?"

Hell, maybe he's a real blogger full of ideas with a readership exceeding a million, I don't know!

But what I do know is, he smells.

Bad.

Like American Spirit cigarettes and Axe body spray with a not-so-subtle hint of pine tree air freshener.)

All this being said, there are some of you who come to this website MORE THAN ONCE, and I owe you an apology. I don't know why you'd give me that much time of your life, but I sure appreciate the fact that you do.

So to reward you for that, go see

Matt Golightly

when he comes to your town. You may have read in my Author Bio that I got booed offstage at a 'Latino Laff Nite?' Well, Matt closed that very same show, and ABSOLUTELY CRUSHED IT. He had the crowd in the palm of his hand from the very first joke to his epic closer, and that was ten years ago. He's only gotten better and funnier, and I strongly recommend you go see him.

He's a solid guy, writes all the time, and is Fluffy's go-to guy when the rest of the writing staff is at a loss.

When you go, tell him 'Nick Joseph' sent you. He probably won't remember the name, but when you mention the 'guy who got Nah-nah-nah-nah'ed off stage,' it'll come back to him.

Cheers,

​Nick

Author

I'm Nick. I've never been afraid of getting in over my head, and I've survived every resulting injury from doing so. Played college football in the SEC while running a 5.1 forty at 200lbs, got booed off stage in front of 1,000 people at a 'Latino Laff Nite (I'm not Latino),' rolled with BJJ Black Belts, and got TKO'd by a Golden Gloves boxing champion during a fundraiser for MDA. The closest I ever got to being a real man was when my mom cut me off on the way to the Marine Recruiter's office - in the parking lot.

​Lots to give, 'cuz, man: I sure have received.

Archives

October 2017
July 2017
June 2017
May 2017
April 2017
August 2016
July 2016
June 2016
April 2016
March 2016
January 2016


Categories

RSS Feed
Powered by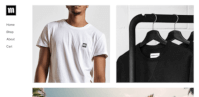 Create your own unique website with customizable templates.