a blog? I thought he was supposed to leave me wanting more?
How To Improve Your Comedy Writing
I don't do long posts.
I just don't have it in me.
First of all, what am I going to talk about that's worth ten minutes of your time? A bunch of topics, sure, but one?
Also, the topics that go on for any length of time are already covered: religion, politics, the religion of politics... all done ad nauseam.
So the plan is to drop some thoughts and refer you to a comic or comedy writer's website if at all possible. Some of these people are (were) friends of mine, but I trust my comedy gut well enough to know that you'll like them, too.
They're people who influence my writing and my stand-up, but mostly, they're people doing comedy right. They're creative, talented, and unique, and the fact that they're not household names or millionaires is a mystery.
So there you go: short posts reflecting a thought or two, and then I drop a comic's name you should be watching or reading.
Well, you know.
​Except for this time. This was just an intro.
Mahalo,
Nick



And welcome to nickjosephcomedywriting.com.
I'm your host, Nick Joseph.
About the site:
I write comedy, and I wanted to have a site where people could go to see some samples and hire my services. I'm not being shameless here, just honest.
Freelance writing is a pretty tough gig, but it's amazing how quickly you can distinguish yourself from the rest of the pack by approaching it with even the slightest hint of professionalism.
Especially comedy writing. Seriously - you go to some comedy websites and you don't know if you're hiring the next Larry David or the next John Wayne Gacy.
Here, you'll see 'Quality Comedy Writing from Concept to Production' in several places because it's simple (like the site) and I swear by it.
My job as a comedy writer is to make you and your audience laugh with organic and unique material. I invite all interested parties to contact me so we can first engage each other and see if I'm a fit for your project. If I am, then I'll bust my hump to get you the work in a manner that exceeds your expectations.
And if you tell me you don't like a joke, I won't waste our time defending it - I've got plenty more.
There's enough about my personal life already here, so I won't bore you with it, but I do need to add that I come from a service industry background, and exceptional service has been - and will always be - my trademark.
Thanks for stopping by, and feel free to contact me at your leisure.
Cheers,
Nick




Author

I'm Nick. I've never been afraid of getting in over my head, and I've survived every resulting injury from doing so. Played college football in the SEC while running a 5.1 forty at 200lbs, got booed off stage in front of 1,000 people at a 'Latino Laff Nite (I'm not Latino),' rolled with BJJ Black Belts, and got TKO'd by a Golden Gloves boxing champion during a fundraiser for MDA. The closest I ever got to being a real man was when my mom cut me off on the way to the Marine Recruiter's office - in the parking lot.

​Lots to give, 'cuz, man: I sure have received.

Archives

October 2017
July 2017
June 2017
May 2017
April 2017
August 2016
July 2016
June 2016
April 2016
March 2016
January 2016


Categories

RSS Feed
Powered by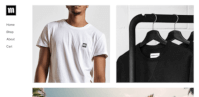 Create your own unique website with customizable templates.